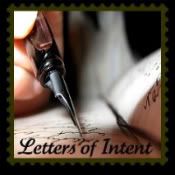 Want to write a letter ...want to tell someone something well do it and then head to Foursons and link it up!
Dear People who choose to bring your domestic issues in public,
Well let me tell you I do not enjoy the food at Mcdonalds... I do enjoy the happiness my son gets from the play place so it is a 50/50 good and bad.... BUT when you throw in the people with domestic issues you change my equation thus making it into thirds...so it is now 2/3 bad and 1/3 good.....Thanks for this ...
I am sorry you have to have monitored visits with your kids...I guess this is as good of a place as any... but the angry mom figure woman who is glaring into the play room makes me scared that here you burn in hell stare may actually set this place on fire...
Next go round at the play place we encountered these people.... Dad and Mom disagreement pants... Yes he thinks the kids should eat then play ...She thinks they should play while they eat their big macs... Her excuse is they will get to full to play.... his reasoning is they need to earn thier play time by eating good... Mind you they have 4 kids with them..So he proceeds to tell her out loud he makes the money so they raise the kids his way or the highway! Thanks buddy I choked on my salad being overwhelmed by your mannors
Finally ....The unresponsive mom.... you bring 3 kids ...one has ran off to the other room... You "Crack"berry buzzes and you are all into it... While you are doing this the boy falls and is crying...The kid in the other room has not returned and you little girl is screaming and throwing french fries at you ....Maybe you were unresponsive because you were on the phone calling some one a M************K yes its bad..... So as your children come back to you thank goodness no one took the one who left the play room ..you realize little miss fit has thrown all of her food at you and you proceed to yell at the other two that they should have been watching there effin sister.... Thanks my kid needed to hear and see this....